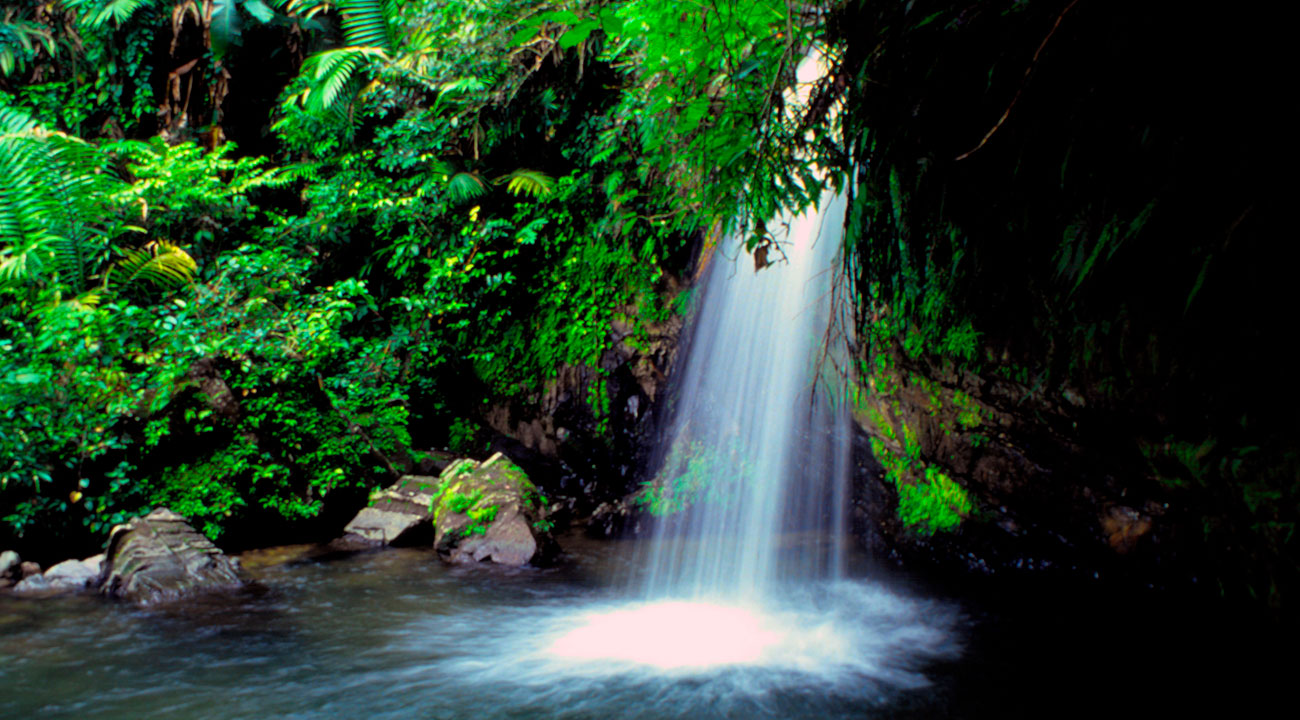 Introduction
A myriad of waterfalls, cascades & pools
National Science Foundation researchers recently concluded that El Yunque is a remnant of an ancient supervolcano. The volcano, named Hato Puerco, was one of the Caribbean's largest and most active volcanoes during the Cretaceous period 145–66 million years ago. More recently, the rainforest was revered as a sacred site for over a thousand years by the prehistoric Taino natives. They believed that Yuquiyú, their god of light and life, dwelled on Yuqué ("The White Land"), the cloud-covered peak now known as El Yunque.
Hiking
Hiking in El Yunque National Forest
Look for wild orchids as you hike on three rainforest trails in a jungle of bamboos, Sierra Palms and giant tree ferns. The Mount Britton Trail ascends through the Tabonuco, Sierra Palm and Dwarf forests to the historic Mount Britton Tower, with its magnificent views to the Caribbean. La Mina Trail winds down along a rushing river to a roaring waterfall. After a cooling swim and a picnic, continue out on the Big Tree Trail, passing over clear mountain streams and beneath towering trees. More challenging is the trail to Juan Diego Falls. Some say this hike to three waterfalls is El Yunque's best-kept secret. At the end of a day of hiking, return to Yuquiyú.
Flora
El Yunque flora
Among El Yunque's flora are over 1,000 plant species. There are over 240 species of native trees, of which 88 are rare and 23 are found only in this forest. While many tree species are indistinguishable to the casual observer, the Sierra Palms (Prestoea montana) are easily identified by their red "buttress" roots. There are 50 species of native orchids and over 150 species of ferns, including giant tree ferns (Cyathea arborea) that grow to heights of over 40 feet. The rainforest is commonly divided into four ecological zones characterized by variations in climate, soil and slope. Each zone is named for the dominant tree species. The Tabonuco Forest grows below 2,000 feet in elevation, the Palo Colorado Forest above 2,000 feet, the Sierra Palm Forest above 1,500 feet and the Dwarf Forest, near the ridge tops, as high as 3,500 feet above sea level.
Fauna
El Yunque fauna
Among El Yunque's fauna are birds, amphibians, reptiles and mammals. In all, there are more than 77 species of birds, 17 unique to Puerto Rico. The most endangered of the rainforest's 144 animal species is the Puerto Rican Parrot (Amazona vittata). Found only on the island, it is one of the ten rarest birds in the world. The parrot population was estimated to number in the hundreds of thousands when first encountered by Columbus in 1493, but dropped to a low of 13 birds by 1975. A recovery and breeding program is releasing captive birds to create a new wild flock in the Rio Abajo State Forest and to augment the existing one in El Yunque. Amphibians include 13 species of coquís, a singing tree frog endemic to Puerto Rico. The "ko-kee" sound is made by only two of the species, the Forest Coquí (Coquí de la Montaña) and the Common Coquí (Coquí Común). Each of the other species has its own, distinct call. Millions of these tiny frogs make their calls to one another after a rain shower or to announce the ending of the day. Reptiles include about 14 species of lizards and 5 or 6 species of non-poisonous snakes, notably the endangered Puerto Rican Boa. The only order of mammal native to El Yunque is the bat, of which there are 11 species.
Scientists work to save wild Puerto Rican parrot after Maria